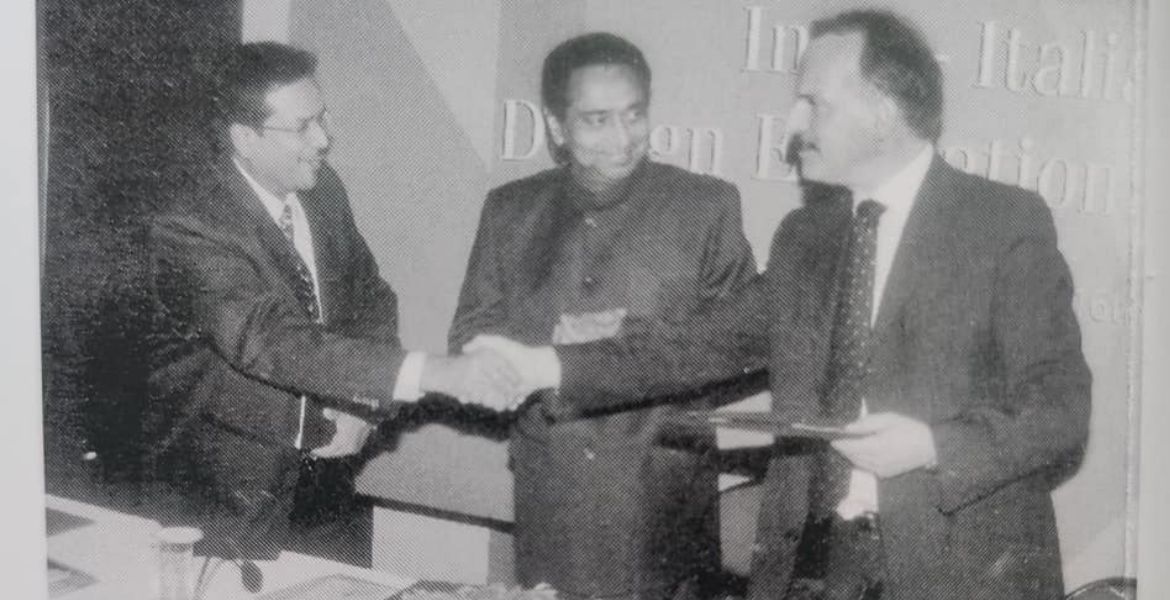 "Design parla Italiano""Design Speaks Italian":
Post by:

admin

August 13, 2021
It was in August 2005 that I had an extensive visit to Italy as part of the Hon.Commerce Ministers' delegation to strengthen the Design exchanges with Italy.I had a memorable meeting at the historic Domus Academy that too with the Founder herself ,the legendary Maria Grazzia Mazzocchi who gifted me the book " Design Speaks Italian" .She had written with her own handwriting in English as she was in NewYork earlier as part of the iconic Domus Magazine,"today,at the beginning of our collaboration ".
I had written about this in my First Word in the NID Magazine " Design Plus" concluding as to when India would say " Design Speaks Indian "!With our Heritage of over 5000 years,I do feel India could become a Design powerhouse for the world.
It is interesting that Antonio Petrillo claims on the blurb " There have been only three real Design schools: Bauhaus which corresponded to the Industrial Society ,Ulm to the mass society,and Domus Academy the school of the post industrial society"
It is interesting to note that the Italian Design had become the toast of the world already with the work of companies like Olivetti and others even before any Design schools came up and infact the book reveals how the popularity of the Domus Magazine and the request from students to study design in Italy led to Maria Grazzia Mazzocchi to set up Domus Academy in 1983.So the Domus Academy was taking off from Bauhaus ( 1919-1933) ,and Ulm School ( 1955- 68) had left.There was a school for graphic design before in Italy and elsewhere design was taught as part of Architectural studies .
Professors like Ezio Manzini who founded DARC at the Domus Academy left to head the Industrial Design program at the Politecnico de Milan later .I remember the first Design Program on Sustainability conducted by Ezio Manzini at NID,no doubt ahead of its times.
The point I am trying to drive is that Design from Italy became famous all over the world much before Design Schools came up in that country.
Indian Heritage and Designs in Textiles and number of other products in leather,wood,stone etc were famous all over the world as well.
The Government of India had set up IIT for Technology in 1958,IIM for Management in 1962 and surprisingly for Design as far back as in 1961.So all the pillars for a leap forward including the AIMS and Agricultural University came up in that crucial period.The Fashion School NIFT came up in 1986 just 3 years after Domus Academy was set up in Milan.
So we cannot blame the Government or political leadership for lack of Vision .Our Technological prowess has atleast led to many Indians holding top jobs in World's best Technological companies .Our Management competence has led to many Indians heading Global Multinational companies.However when it comes to Design we have to do much better.We could have actually done much better.
I am happy that during my Directorship of NID Ahmedabad, we could initiate very fruitful relationships with not only Domus Academy,but also IED , Politecnico de Milano,Bocconi University and many others.We also established a strong relationship with PininFirana for the Automobile and Transportation Design program.
I had received the Il Ponte award for Design Leadership at the famed and magnificent Olivetti auditorium in 2008.Later in 2009 I had also received the third highest civilian honour of Star of Italian Solidarity from the President of Italy in a touching function held at HE Ambassador's residence.
I do feel the Design for District model of Italy and how MSMEs become global Fashion and Luxury brands are lessons which require deeper research and study by the current leaderships of Institutes and companies in India so that Design Speaks Indian to emerge as a Global Design Leader !