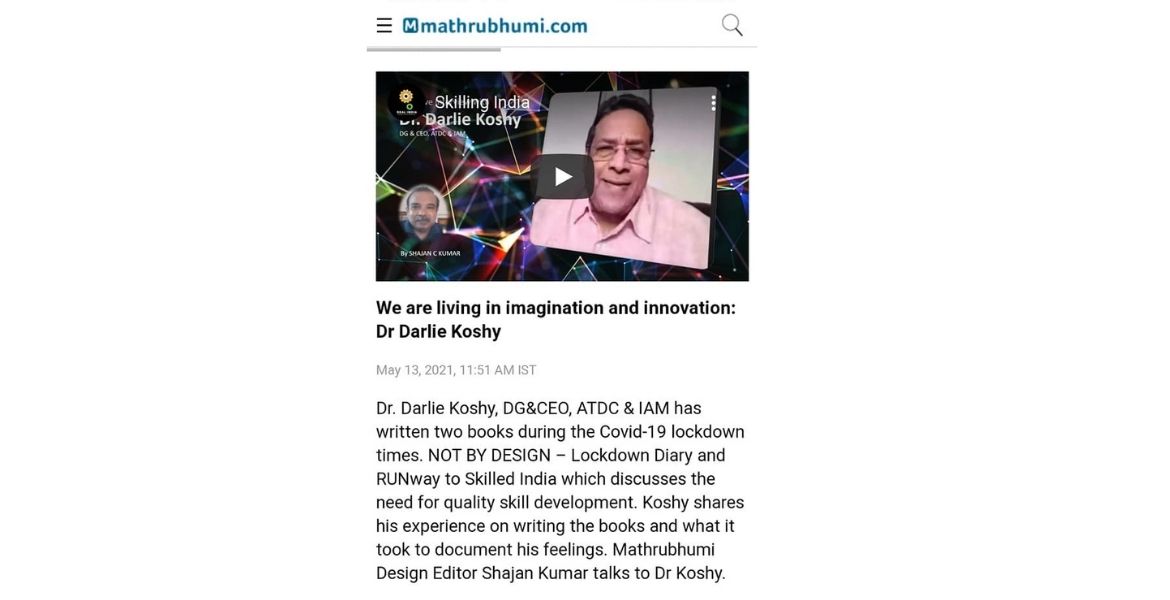 "Is Life Beyond Our Control?
Post by:

admin

August 9, 2021
I was reading the review of Kaushik Basu's new book ' Policymakers' Journal'and nowadays to get an idea about what's going on I read reviews .One statement said to be by Basu attracted my attention "his ( Basu's) inner resilience comes from a belief that Life is ultimately beyond our control".
While studying management we used to separate the factors in our control and what are not and strategise for the company laying out short – medium and long-term plans.
But overall as far as Life is concerned ,
I would tend to agree with Basu.
Though I constantly advise the colleagues and staff " Failing to Plan is Planning to Fail " etc when it comes to my life I would say ' Serendipity wins hands down'!.
Let's look at some events I can reveal : I was all set to join for MA English at the Institute of English , Trivandrum but going for a movie Rajnigandha changed all that, with me landing up to do MBA in Kochi, leaving TVM.
I was about to join Apollo Tyres but landed up in Karnataka State Handloom Development Corporation.A chance visit by SK Misra IAS to Trivandrum resulted in my selection as the Founding General Manager of NHDC in Lucknow.Meeting the Minister of Industries for discussing Yarn Bank scheme resulted in my appointment as MD of HANVEEV.A chance conversation with Dr VK Agnihotri IAS led to taking up Academics by joining NIFT NewDelhi,as a Founding Faculty Member.Despite getting selected at IIT Delhi for PhD ,not bothering to check the results and accidentally getting saved by Dr Gulrajani HOD, Department of Textiles who read an article written by me on Handlooms in Economic Times , leading to getting an urgent message delivered to me to pay up the fees before 2 pm being the last day .
It goes on and on….and the story behind my last job which I have held till 31st May 2021 will read like fiction as it all resulted from a chance encounter at Airport with the incoming Chairman of AEPC…
In my personal life,a house which we had built in the heart of TVM in 1983 went waste for 25 years( after which we had to sell it ) as I had left Kerala in 1984 to join as the General Manager of NHDC in Lucknow…There are umpteen such parts or events of my life and my family's life which make me believe that Life Essentially is not really in our control…
So what do we do?Just drift around aimlessly.Not at all.We have to still plan. As a character in a recent Netflix film says" what happens outside what we have planned or expected, make up actually our lives".. provide the spice of life …So enjoy the ride.!.Luck favours the brave and I would add, especially the patient and perseverent ones !( Those who are curious can read my personal stories in the books NOT BY DESIGN-Lockdown Diary and All by Design – my Tryst with Fashion, Design and Skills
,both available as e-books on Amazon…)